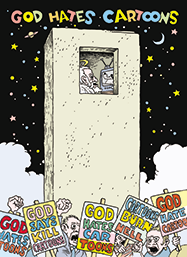 Over an hour of outrageous fun! The first ever collection of its kind, "God Hates Cartoons" brings together some of the best names in alternative comics today. The stellar lineup includes Jim Woodring (Frank, The Book of Jim), Tony Millionaire (Maakies, Sock Monkey), Kaz (Underworld), Sam Henderson (The Magic Whistle, Humor Can Be Funny), Ivan Brunetti (Schizo, Haw!), Mark Newgarden (Garbage Pail Kids, B. Happy), Walt Holcombe (Poot, King of Persia), Tim Maloney (Cat Head Theatre, Underwear Girl) and Lance Myers.
Ivan Brunetti & Tim Maloney "Diaper Dyke and Captain Boyfuck"
Too sick and twisted for Spike & Mike! The wacky adventures of America's sickest odd couple– earth-loving lesbian Diaper Dyke and her boy-loving roommate, Captain Boyfuck. Based on characters from Brunetti's popular comic, Schizo, you can sing along with the catchy theme song as our two heroes look for their butt plugs, talk about preemies, and bitch at each other!
Sam Henderson "Lonely Robot Duckling"
Poor little lonely robot duckling. All he wants is a friend. A friend who will love him and be his good buddy, and who will have fun with him! Our hero, the Businessman, can't resist those watery metal eyes and agrees to let this mechanical menace take him on a spree!
Walt Holcombe "The Courtship of Sniffy LaPants"
Anyone who's had unrequited love will have a soft spot in their hearts for Sniffy LaPants, the awkward but lovable star of this touching cartoon. Sniffy falls in love with the Crazy Lady in the Well, but does he win her over? You'll have to watch the cartoon to find out. 
Kaz "Smoking Cat", "Nuzzle"
Nuzzle's bought a bag of strange potato chips! A cat takes up an oral vice! These two vignettes are taken from Kaz' popular newspaper strip "Underworld," and showcase the usual crowd of losers, perverts, low-lifes and freaks that make it so worthwhile.
Tim Maloney "Testiklés", "My Friend God", "Cat-Head Theatre"
"Testiklés" stars the beautiful, but disobedient Greek horse graced by the largest balls ever seen in the animal kingdom. "My Friend God" features our superhero, God, in a fight to the death with the evil Bunny. And "Cat-Head Theatre" is everything you can dream of when it comes to felines and Shakespeare. The Bard himself would be proud!
Lance Myers "Gutsman"
Introducing Gutsman: he's a hero who would just as soon slice you up as lock you up! When he confronts his nemesis – also armed with a scalpel – things get a little out of control. Chock full of body parts, Gutsman will have clenching your guts in laughter.
Tony Millionaire "Maakies"
Stars of Millionaire's popular strip come to life in these animated adventures. Drinky Crow, the alcoholic fowl, and his friend Uncle Gabby, the sea-faring monkey, take to the high seas and encounter mermaids, enemy cannon fire, haute cuisine, and the difficulty of catching rats.
Mark Newgarden "Cartoons and You"
Narrated by the soothing voice of Brian Dewan, "Cartoons and You" is a delightful explanation of how cartoons work and the dangers associated with them. After viewing this public service announcement, you too will want to "Use Cartoons Responsibly."
Jim Woodring "Whimgrinder"
Woodring's signature character, Frank, meets the moon-faced Whim and his terrifying device, the Whimgrinder. Good thing Frank has Pupshaw, his pet Godling, to keep the danger at bay! This black and white cartoon evokes the surreal animations of the Fleischers, but with an eerie touch only Jim can provide.