Celebrating their 50th anniversary, Firesign Theatre Presents
"Everything You Know is Wrong" DVD
Their Columbia Era Filmography collected for the first time!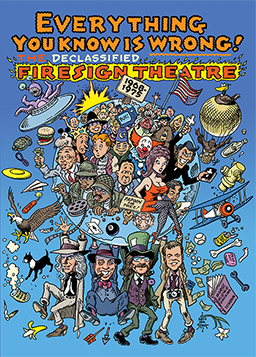 Legendary comedy group The Firesign Theatre presents a new double-DVD compilation, EVERYTHING YOU KNOW IS WRONG: THE DECLASSIFIED FIRESIGN THEATRE, 1968-1975. The collection is a survey of the group's television and film work from their classic Columbia Records era, with over seven hours of material gathered on two discs.
Included are Firesign's 1974 short feature Everything You Know Is Wrong; their 1972 concert film Martian Space Party; Questions and Answers Live at UCSC, a televised stage show from 1975; About a Week, a filmed performance and interview for Los Angeles TV in 1971; the complete series of Jack Poet Volkswagen ads, which Firesign wrote and performed for television in 1969; more than three hours of home movies; photo galleries; and more.
Everything You Know Is Wrong and Martian Space Party both feature running commentaries recorded by the full group in 2009. All of the material in the package has been unavailable for over 20 years, and most of it has never been released in any form.
About Firesign Theatre – www.firesigntheatre.com:
November 2016 marks the 50th anniversary of The Firesign Theatre, whose founding members Philip Austin, Peter Bergman, David Ossman, and Philip Proctor came together on KPFK-FM in 1966 on Bergman's program Radio Free Oz. During their time together they released over 35 albums, including "Don't Crush That Dwarf, Hand Me The Pliers," called "the greatest comedy album ever made" by Rolling Stone, described by the New York Times as "a multifaceted work of almost Joycean complexity," and placed in the Library of Congress' Archive of historic recordings.
Dubbed "The Beatles of Comedy" by The Library of Congress, the four-man Firesign Theatre collaboration wrote and performed together for over forty years. Their early studio work for Columbia Records (1968-1975) remains their best known and most influential. Innumerable phrases from their albums have entered the English lexicon: What's all this brouhaha? More Sugar! What you don't mean won't hurt you! Not Insane! Forward Into the Past! Shoes for Industry! Your brain may no longer be the boss! 
The iconic comic voices of the counter-culture generation, Firesign chronicled pop, politics, media, and technology in a tense one listener called "the Future Inevitable." The Firesign Theatre has been compared to Kurt Vonnegut, Ken Kesey and Bob Dylan in their original use of language and to the surrealists in their psychedelic story-telling methods, including the time-and-space altering concept of "channel-switching." The original records, intricately produced in multi-track recording, were designed for multiple listenings and meanings – an audio theatre of the absurd.
The Firesign Theatre's Peter Bergman passed away in 2012. Philip Austin died in 2015. Remaining Firesigns Phil Proctor and David Ossman have worked since then to preserve the long heritage of their collaboration. Their classic scripts were gathered in the book Marching to Shibboleth in 2013. All their major albums are still in print, some eighty hours of their early radio broadcasts have been released in the book/DVD set Duke of Madness Motors, and two matching volumes preserve their early radio plays (Exorcism In Your Daily Life) and stage plays (Profiles in Barbeque Sauce). A fourth book, Anythynge You Want To, captures three decades of variations of their epic Shakespeare send-up, plus an extensively annotated "scholarly" historical account of the adventures of Ye Olde Firesygne Theatre from 1600 to 2000.