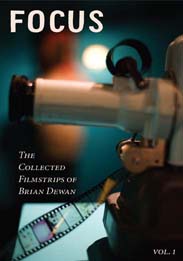 Many of us grew up watching educational filmstrips from our constricting, wooden school-house desks.  Who can forget the whir of the projector fan as the teacher's pet slowly cranked each frame into place when she heard "Boop!" on the soundtrack?  Brian Dewan makes his own versions of these filmstrips  – entertaining, beautifully drawn and wonderfully narrated. In their own way, they are indeed educational. 
For the first time ever, the filmstrips Brian has created in the past decade have been collected into one DVD volume. Each frame is skillfully hand painted and lettered. These remarkable images are accompanied by his deep, resonant narration and musical accompaniments.  But the world these filmstrips evokes is a mysterious one, in which an unnamed and stern authoritarian dictates "moral" lessons of dubious origin.
The themes vary from straight interpretations of "Grimm's Fairy Tales" to Bible stories (e.g. "Deuteronomy") to fictional "histories" that are in turn surreal, satirical and hilarious (e.g. "Before the White Man Came"). 
The filmstrips on the DVD are as follows (listed in alphabetical order):
Before the White Man Came
Brand New Packages for Sale
Civic Pride
The Course of Your Research
The Death of the Hen
Deuteronomy
Grimm Fairy Tales:
– The Fires of Youth
– The Ungrateful Son
– The Wise Servant
Innovation
King of Instruments
A Little Girl and Boy
Neighbors in the Solar System
Obey Signals
The DVD not only contains filmstrips, but the special features includes one song from a musical performance of Brian Dewan playing, overlooking the beautiful Hudson River Valley, where he lives. There is also an extra super rare bonus filmstrip, "Cherry Tree Carol." 
This is indeed an audio and visual treat for anyone who appreciates skill, talent and a good, old-fashioned performance.
The specs on the DVD (in case you're wondering): 120 minutes, NTSC, all regions, Dolby digital. $24.99. Available here or from other fine retailers worldwide.
The Special Limited Edition includes a signed letterpress print of "More Than One Way to Skin a Cat."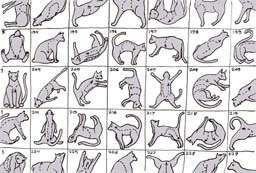 The print run was 117 and there are only 100 of these limited edition DVDs available for only $44.99.